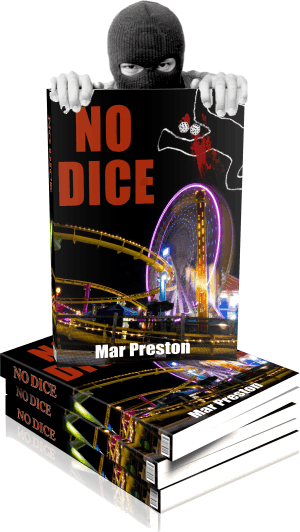 No Dice
A powerful gambling empire is steamrolling local opposition to build a high-rise casino complex on the shoreline of upscale Santa Monica. The crucial city councilwoman with the deciding vote is murdered. Confronting Santa Monica Police Detective Dave Mason is a real whodunit.
The dance between politics, money, and big ideas that change the landscape draw Mason in, deflecting his attention from his daughter's bullying and his impending divorce.  He struggles against his attraction toward the witness, Ginger McNair, the community organizer leading the opposition forces.
Ginger must prove her innocence in the murder of the city councilwoman. He must also live with the threat that the real killer – probably someone she knows – is hunting her. She hounds Mason to find the real killer.
Mason struggles to keep his mind on this baffling case with way too many suspects with no alibis, while his own life unravels and Ginger keeps interfering in his investigation. Can't she understand the danger she's in?
Mason's focus lands on the money people:  real estate developers, PR flacks, the hotels, the politicians and their dark shenanigans. They close ranks against him.
An explosive secret boils up from Santa Monica's seamy past that the casino interests cannot suppress. It's then a down-to-the minute challenge for Mason to stop the killer before he strikes through the flimsy curtain of protection surrounding his witness.
"Smooth, suspenseful, and with a perfectly tuned voice, NO DICE weaves several strands together and neatly ties them off in the end. A satisfying read!"
~ Rosalie Maggio, author of 19 books, including Pieces of Eight
"Bravo for a tale told well (even though probably not enough politicians and lawyers died). Can't wait for the next one."
~ Douglas Page, Science Writer
"I couldn't put NO DICE down. The scrappy nonprofit heroine and the harried city council members rang so true. This book not only delivers the punch of a good whodunit, but it educates as well."
~ Trebor Healey, author of Through It Came Bright Colors and Song of Pan