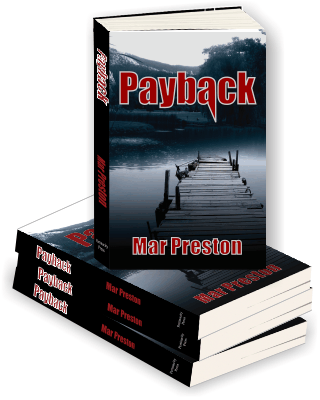 Payback
A California mountain village explodes with the news of the beheading of a popular mayor. But we're all such nice people here in our little paradise, aren't we, people ask?
It's up to Sheriff's Homicide Detective Dex Stafford to discover who of all these nice people has a dark motive. The village's Patrol Officer, Holly Seabright, turns out to be a helpful, and attractive, ally in the dangerous unraveling of this fast-paced story.
By Brandt · ★★★★★ · October 18, 2013
This author knows how to set up a plot. And her characters have great dimension to them so that I feel like I wandered into town as a small-time newspaper reporter and started meeting these people. In Payback (Sierra Mountain Village series) by Mar Preston we are treated to a real mystery after a…
…more
By Nicola · ★★★★★ · June 29, 2013
I received a free copy for an honest review from Mar. I really enjoyed reading this book. Great characters and storyline. I can add Mar Preston to my favourite authors along with James Patterson and Lee Child. Great Book can't wait to read the next chapter in Dex Stafford's story!
…more
By Forest · ★★★★★ · October 23, 2013
I loved this book! A very well written story and a page turner for sure. I read it in two sittings, I didn't want to put it down, though. I highly recommend this book. It's a great read for everyone and I will definitely read other stories by this author. Well done!
…mor